Being in existence for just 6 seasons, many would question the amount of players that have suited up in red and black but its football. The average CFL team dresses 45 players a game, between injuries and changes on the depth chart each week there are around 2-5 new players coming in and coming out off the active roster which leads to a large number, close to 150 total players to be on the CFL team's roster, multiply that by 6 (6 years) and you have an even bigger number.
Sure thats a lot of math and a lot of people would think only a small percentage of those players are even good but in the 6 years of existence those players have brought the Ottawa Redblacks to three Grey Cups. That meaning every year they played games it was a 50-50 chance whether they went to the big game, however could they of done better in the three years they didn't go to the Grey Cup? Yes they could have!
To be able to make a CFL roster, you've got to be good nevertheless the Redblacks roster so for those that have suited up and played on TD Place field are very well respected. If you look into the names of players that have gone through the system in Ottawa some of those players that weren't necessarily given the right opportunity could've helped them out in the three years that the team didn't go to the big game.
Starting with linebacker Serderius Bryant. Being signed mid-way through the 2016 season out of Ole Miss Bryant was brought into the Ottawa Redblacks organization as a winner. He mostly was a backup for both Damaso Munoz and Taylor "Tank" Reed but when he played in the 7 games back in 2016 he was able to show out with 18 tackles and even had a fumble recovery in the 2016 Grey Cup. Bryant was proven to be a playmaker after year one in Ottawa, one thing comes to the other and he returns for 2017 with a bigger role in which he played all 18 games of the CFL season. In the full 18 game season he had over 50 total tackles alongside a handful of pass breakups as well as one forced fumble.
With now 25 games of CFL experience behind him and over 75 tackles taken accountability for Bryant was on the lookout to do some special things on the Redblacks' defense for the future but unfortunately that was also his contract year and after signing players like Anthony Cioffi and Avery Williams that same off-season the team didn't feel the urge to sign Bryant back to Ottawa. Although they didn't feel the need to have him back, theres now a lot to look at to see what could have been… If the Redblacks brought him back for the 2018 season Bryant would've started alongside both Kevin Brown and Kyries Hebert who combined for a total 123 tackles that year, and after having over 50 in 2017 Bryant could've brought in maybe 60-70 tackles for that linebacking core and being just 26 at the time Bryant would've been on to do big things in the CFL and could've even made his way to the NFL if given opportunities.
Bryant, now that he's off the Redblacks roster and out of the CFL is playing for the Spokane Shock of the Arena Football League in the States. Since he is still just 28 years old if he does pop off in Spokane I wouldn't be surprised if Serderius Bryant comes back to the CFL so stay tuned and be on the lookout for Bryant in the future.
Next on the list of Redblacks players that could've shined in the CFL would be wide receiver John Harris. No no no, he's not RJ Harris' brother nor is he related to Trevor Harris but John Harris really could've showed off in the CFL if he were to have gotten a better opportunity. His first CFL chance came in 2016 with the Ottawa Redblacks. At the time Harris was 24 years old and just one year out of college where he was a stand out receiver at the University of Texas at Austin. As a part of the Longhorns' offense the 6-foot-3 receiver was able to play in a total 36 games before going pro and even led the team with over a thousand yards in his senior year. He caught 68 passes for 1051 yards and 7 touchdowns where he was tied for 10th most in the country.
The star from Texas later went undrafted, got signed and cut by the Philidelphia Eagles after just one pre-season game and then got picked up by the Brooklyn Bolts of the FEFL which was a league which actually attempted to be a farm system for the NFL. Harris played a number of exhibition style games with the Bolts and then got looks from the Ottawa Redblacks where he would play for the majority of the 2016 CFL season. Since the Redblacks were stacked up at receiver with Ellingson, Sinopoli, Jackson, Williams, Criner and some Canadian guys like Scotty Mac and Jake Harty Harris wasn't given much of a chance to be a starter on the team but was still given the go ahead for one game against the Winnipeg Blue Bombers in week 20 where he was able to catch 3 of the 6 targets for a total 28 yards. Following the season and before the team's 2017 training camp Harris was cut and brought in by the Eskimos where all he'd do is play a few snaps at mini camp before being cut.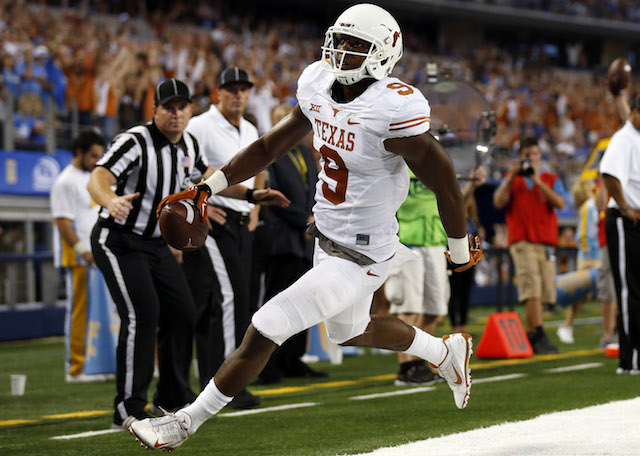 It's unfortunate that Harris wasn't given the chance to shine at the pro level because after seeing what he could do at Texas and gaining those 28 yards in Ottawa in 2016 it really was looking good for him and like Serderius Bryant he is still just 28 years old which isn't too old in football so he could still get on an arena football team and possibly work his way back to the CFL but being out of football for 3 years now it doesn't look like any teams would be willing to take a chance on Harris.
Alongside John Harris and staying on the offensive side of the ball is running back Jonathan Williams. Now over the years the Redblacks have seen a few great running backs, most recently William Powell and Mossis Madu but before those two were even in Ottawa, Williams was here battling for a starting job.
That starting job that he was aiming for back in 2014 was given to him after Chevon Walker's injuries and soon after he took over at the running back position Redblacks' fans started forgetting about Walker as Williams showed off with over 400 all-purpose yards in the 4 games played. Now what made the 403 yards he gained even more special was the fact that he was able to do it all on 58 touches. Averaging 6.9 yards a touch, Williams was a bright spot in the 2-16 season for Redblacks' fans but come 2015 fans wouldn't see him again. There was a small mishap in which led him to be a free agent and then went unsigned by other teams, meaning the Redblacks were the last among the Stampeders and Bengals to have Williams play for them.
With William Powell on the Redblacks from the 2015 season all the way through 2018 Williams wasn't necessarily needed by the Ottawa Redblacks but how can you say no to a player that averaged a hair under 7 yards a touch for you. He was an explosive back when he was in Ottawa in 2014 and could've been a franchise back if he was in Ottawa for longer.
Of course these are just a few of hundreds that have worn a Redblacks jersey but after taking a look at these three players they could be the top players 'that could've been' but its all in the past now so lets look at who have replaced these three players and who are on the Redblacks active roster now. At linebacker the Redblack have both Avery Williams and Kevin Brown who both took over from Serderius Bryant while at receiver and running back the team has both RJ Harris and Brendan Gillanders. Stay tuned for the future of Redblacks' football at https://lilzbigr.blog/