The Ottawa Redblacks went 3-15 in 2019, and without a 2020 season it is unsure how the 2021 season will go for the Redblacks. It seems as if the team has improved, bringing in a new coaching staff led by 2019 Grey Cup Champion Paul LaPolice and signing a list of players but the real test will come on the field at TD Place when the season kicks off. Considering it was such a bad season in 2019 everyone expects the team to perform at least a tad bit better, though with the team's history, being in 3 of the last 5 Grey Cups, the fans want to be back in the playoffs and who blames them, but the fans also need to know some names. The 2021 Ottawa Redblacks will be very different than the 2018 group that went to the Grey Cup, in fact there are very few starting Redblacks from 2018 that are still in Ottawa for 2021.
Since the beginning of the 2019 off-season up to now, these have been the additions that the Ottawa Redblacks have made.
| | | | | | | | |
| --- | --- | --- | --- | --- | --- | --- | --- |
| Na'Ty Rodgers | OL | Jamar McGloster | OL | Kai Absheer | OL | Darrell Williams | OL |
| Ben Petrie | OL | Brandon Hitner | OL | Tyler Catalina | OL | Graydon Campbell | OL |
| Josh Dunlop | OL | Matt Nichols | QB | Taryn Christion | QB | Caleb Evans | QB |
| Timothy Flanders | RB | Akeem Hunt | RB | Detrez Newsome | RB | Kenny Young | RB |
| Jalen Saunders | WR | Anthony Coombs | WR | Daniel Petermann | WR | Malcolm Williams | WR |
| Justin Hobbs | WR | A Etta-Tawo | WR | Jovon Durante | WR | Joe Walker | WR |
| Cortrelle Simpson | WR | Ervin Phillips | WR | Terry Williams | WR | Ryan Davis | WR |
| Cleyon Laing | DL | Stefan Charles | DL | Davon Coleman | DL | Ese Mrabure | DL |
| Connor Flagel | DL | Bryson Young | DL | Johnny Dwight | DL | Micah Awe | LB |
| Don Unamba | LB | Ironhead Gallon | LB | Christophe Mulumba | LB | D'Juan Hines | LB |
| Nicholas Grigsby | LB | Juwaun Johnson | LB | Frankie Griffin | LB | Dimitri Halloway | LB |
| Junior Joseph | LB | Denzel Johnson | LB | Dwayne Norman | LB | David Jones | DB |
| Abdul Kanneh | DB | Dagogo Maxwell | DB | Marcus Lewis | DB | Marcus Roberson | DB |
| Jonathan Alston | DB | Jocquez Kalili | DB | Brad Muhammad | DB | Dominique Hatfield | DB |
Along with the free agency additions over the last year or so, the Ottawa Redblacks have also been a part of the 2020 CFL Draft, where they were able to bring in defensive backs Adam Auclair and Treshaun Abrahams-Webster, linebackers Brad Cowan and Dan Basambombo, defensive lineman Reshaan Davis and offensive linemen Ketel Asse and Jakub Szott.
Looking at all of the transactions made over the span of this long CFL off-season, there are themes inside a lot of the moves. The Ottawa Redblacks have improved heavily on the defensive side of the ball, starting with getting defensive co-ordinator Mike Benevides and they've also gotten a lot of ratio breaker potential talent. Signing Cleyon Laing, Stefan Charles and Christophe Mulumba are all very good examples of that and moving forward with the off-season don't be surprised if they continue to sign defensive players to become one of the best defences in the CFL or get more Canadian star power because coming off of the 3-15 season the last time out the Ottawa Redblacks are looking to win as much as possible in 2021.
With that being said, there is still a lot of time left in this year's off-season, meaning there us still plenty of time for the Ottawa Redblacks to bring in more talent. Whether that be through free agent signings or the CFL Draft coming up in the spring, there are lots of names that are yet to be claimed by CFL teams and for the majority of them, why not come to the Ottawa Redblacks and be a part of something special in 2021.
With the main priority being the defence for the majority of this long off-season, don't be surprised if the Ottawa Redblacks add to the players already on Mike Benevides defence. Available to sign now as free agents are Canadian all-star, ratio breaking linebacker Henoc Muamba and defensive back, safety Taylor Loffler. As for the American defensive players available, the Redblacks can go out and get Alex Bazzie, a longtime defensive end in the CFL who spent time with Micah Awe in BC and even was coached by Benevides in his rookie season in the CFL where he recorded 10 sacks. Also a teammate of Micah Awe and a veteran pass rusher available is Craig Roh, who in 5 CFL seasons has not had a season with less than 6 sacks. Yes he is on the back half of his career now but he is proven to be a smart pass rusher, he has a lot of CFL experience to help the younger players on the defence and he is somewhat familiar with both LaPolice and Benevides from playing in both B.C and Winnipeg. For both Craig Roh and Alex Bazzie, what puts them ahead of the other pass rushers available is the familiarity and experience they have with the CFL and the surroundings here in Ottawa and one more player that brings exactly that is Jonathan Newsome. Newsome, a 30 year old edge rusher has been in the CFL since 2016 when he launched his CFL career in Saskatchewan following 2 seasons with the NFL's Indianapolis Colts where he recorded 8.5 sacks, including one in the 2014 post-season on NFL Hall of Famer Peyton Manning. Newsome played with the Redblacks from 2017 to the middle of the 2019 CFL season, being a part of the culture of the 2018 Grey Cup team and considering the familiarity he has with the players and staff of the Redblacks he might be a part of the players that, if its for the right price will be signed by the Redblacks.
Now, if the CFL season started next week and the Ottawa Redblacks are limited to the moves they can make until the start of the season, the defence doesn't need to be touched. They've already made enough changes to the defence, making it one of the best in the CFL but the front office in Ottawa hasn't made too many changes on the offensive side of the ball other than signing Petermann, Saunders and Nichols while replacing Crockett and Made for Akeem Hunt and Timothy Flanders so what would be some moves that they can make to improve the offence?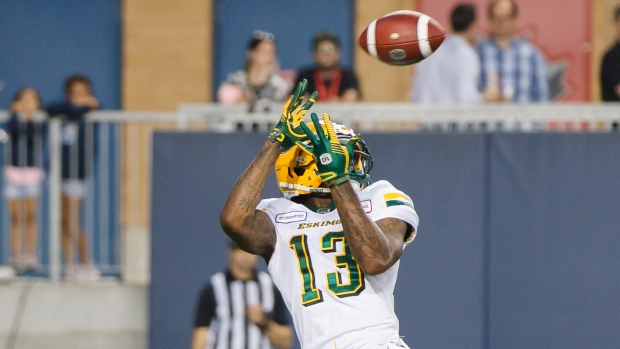 For starters, signing wide receiver Ricky Collins Jr, a one thousand yard receiver from the 2019 CFL season would change the dynamics to the Ottawa Redblacks and any other offence in the CFL. Ottawa already believes they have a 1,000 yard receiver in RJ Harris, Jalen Saunders and Brad Sinopoli, so adding one more to the group would make the magic number of 4-one thousand yard receivers. In past years it has been done in Ottawa with Chris Williams, Ernest Jackson, Brad Sinopoli and Greg Ellingson therefore it can be done with the likes and addition of Ricky Collins Jr, if he is able to sign for the right price of course. As of now the Ottawa Redblacks top 7 receivers are R.J Harris, Jalen Saunders, Brad Sinopoli, Anthony Coombs, Daniel Petermann, DeVonte Dedmon and Jerminic Smith; given that there are 3 Canadians on the top 7 already and the team has both Wesley Lewis and Malcolm Williams available on the roster as well, a Canadian receiver isn't needed but if the Ottawa Redblacks are willing to go out and get one, the three best Canadian receivers available are named Michael Klukas, Devon Bailey and Rahaun Simonise. Outside of them, American CFL veteran receivers Kenny Stafford, Caleb Holley, Chris Matthews, Duron Carter and Quan Bray.
Some of the receivers are more realistic than others to come to the capital, but can all bring value to the Ottawa offence, as can another running back, experienced in the CFL. The Redblacks running back room right now consists of Timothy Flanders, Akeem Hunt, Brendan Gillanders, Detrez Newsome and Kenny Young but not a single one of them have been a starting running back since their University careers, each of them being at the division one level except Gillanders who went to the university of Ottawa and is a local product. The following running backs have either started multiple seasons as a key part of CFL offences or have started more than three games over their career, marking the amount of games started by Timothy Flanders. Available to sign and could potentially start in the Redblacks offence would be C.J Gable, Tyrell Sutton, Brandon Rutley, Cameron Marshall and Brandon Burks or Canadian running backs with less experience Shaq Murray Lawrence, Ryder Stone, Greg Morris and Mercer Timmis.
Of all the available talent; its clear that the most effective signing for both sides of the football would be at receiver or running back. Bringing in Matt Nichols signifies that the Ottawa Redblacks have a winner at quarterback but we all know that even the best quarterbacks can't win with weapons around them so if the Redblacks were to sign anyone else in the coming days or weeks expect it to be on the offensive side of the ball.
We all want proven talent if you need a player, like how the Ottawa Redblacks chose Matt Nichols over Nick Arbuckle, but sometimes youth talent is the better option and maybe that is what the Ottawa Redblacks and their front office are thinking for how they will address the remainder of the team's needs. Free Agency is pretty well over with, now that all of the big names have found a new home or have been re-signed there isn't too much buzz around the free agents still available and the teams out there signing free agents but there is still a few more stages of this long off-season that we have to get through ahead of the season that we hope kicks off in June. Next up this off-season, and likely the second most important stage of any off-season is the draft. This year's draft is going to be much different than we are used to. A lot of the players may not play the 2021 CFL season because they are either going back to University for the 2021 season or will be going the NFL route, therefore the Ottawa Redblacks and every other team in the CFL has to be smart with their draft picks. Do you want someone that is going to play right away? Will be a question going around leading up to the draft and for the Ottawa Redblacks I would imagine the answer to that question would be yes.
With that being said; there is plenty of talent in this year's class. Some of the players didn't have that extra 2020 season to prove themselves to professional teams meanwhile some are pro ready and almost set to start for any of the CFL's 9 teams. Going into the draft, the Ottawa Redblacks, given the talent available should go for the best player available at each selection. In past years we've drafted offensive linemen in the first round to address the needs as well as full backs and players that've gone on to the NFL so if the Ottawa Redblacks want players that will bring star power to TD Place each time they step foot on the field they should get the best available players, but of course while being smart on the players chosen as well. Some of the best available players that would fit well in Ottawa and could have a chance to start in 2021 or as a sophomore in 2022 would be Jalen Saunders style wide receiver Terrell Jana from Virginia, linebacker Amen Ogbongbembiga out of Oklahoma State who plays similar to recent signee Micah Awe, defensive back, linebacker hybrid player Nelson Lokombo, brother of Bo Lokombo and of course Ottawa native Alain Cimankinda who may be the best available defensive lineman for the Ottawa Redblacks in this year's CFL Draft. Despite signing Cleyon Laing, Stefan Charles and Davon Coleman while re-signing both Every Ellis and Danny Mason for the 2021 season there isn't too much pass rush star power in depth on the roster. Nigel Romick, Thomas Grant, Samson Abbott, Ese Mrabure and Kene Onyeka are all great Canadians to fill the hole if one of the starters go down and Onyeka has potential to be something special, the Redblacks also have some American depth with Darius Jackson and Shaneil Jenkins coming back but Cimankinda brings a lot more than depth to the Redblacks if drafted. He is a hometown kid, he's gone through a lot of adversity to get to this point in his life so he will not miss out on the opportunity, meaning he'll give you 100% each snap he is in for and given that he is a hometown kid, and he's a younger Ottawa native than Mateas, and MacMillan, Cimankinda will bring more fans to TD Place when the gates are open once again. Being just 2 sacks away from the CIS record for all-time sacks, and missing out on the opportunity to break it in 2020 with no season, Alain Cimankinda is clearly hungry to sack quarterbacks and why not do it at home in Ottawa?
Cimankinda, Jana, Ogbongbemiga and Lokombo are each great players, and have proven to be great players at the University level, two at the CIS level and two at the division one, making them among the best players available in this year's CFL Draft but there is plenty of players left after them that have potential to have great careers in the CFL as well. Among the players are defensive linemen Daniel Joseph, and Mohamed Diallo from the NCAA, offensive lineman Logan Bandy of Calgary, receiver Will Corby and 6'5 basketball star and Buffalo receiver Dominic Johnson of Windsor, ON. Then there are players who are eligible for the 2021 CFL Draft but will likely land in the NFL or will go back to University in 2021 like Ottawa natives Patrice Rene, Luiji Vilain, and Liam Dobson, defensive backs Jevon Holland, Deane Leonard, Benjamin St Juste, and Alonzo Addae as well as other key names in Chuba Hubbard, Alaric Jackson and Josh Palmer who are key names to watch as Canadians in the 2021 NFL Draft.
All in all, the Ottawa Redblacks have made several moves to improve the team since the heart breaking 3-15 season in 2019 and with the players available to them now and in the coming months they can seriously improve and become a runner for the 2021 Grey Cup so stay tuned for that and do not be surprised if any of the players make their way to the Nation's Capital soon.