In the 2019 CFL season, the Ottawa Redblacks only had one game in which a running back ran for over 100 yards. Game one at Calgary, Mossis Made ran for 112 yards but after that he never did it again, nor did John Crockett, Brendan Gillanders or Greg Morris. With just one of the four running backs named coming back to Ottawa for the upcoming CFL season, the Redblacks have made several changes to make sure that they get a running back that can consistently help put points on the board and win games. As of now they don't have exactly what some fans have in mind, considering the Ottawa Redblacks had 1,000 yard rusher William Powell in their system for quite some time but a combination of Gillanders coming back as well as new comers Akeem Hunt and Timothy Flanders may be the answer to the run game in Ottawa. Both running backs haven't been starters since University, but each have proven themselves in the NFL and CFL, making them two of the best options for the Redblacks moving forward, but what also might add to the run game may surprise some.
Given the roster that the Ottawa Redblacks have right now, going into training camp you will see two dynamic quarterbacks in both Caleb Evans and Taryn Christion, who if used correctly could sneak into the run game and be a big part to the 2021 Redblacks offence. Ottawa hasn't been known to run too many gadget plays and you may be able to describe the offence as one dimensional from previous years as the biggest plays in the playbook normally involved throwing the ball to either Greg Ellingson or Brad Sinopoli. With Ellingson gone, and Sinopoli having the down year in 2019 its not guaranteed that passing the ball will always lead to a big play for the Ottawa Redblacks in 2021, but with new faces Paul LaPolice and Matt Nichols now being key names on the offence, things may be different, including more trickery plays. In both 2018 and 2019 LaPolice, calling plays in Winnipeg added backup quarterback Chris Streveler to the offence, not for the pass game, but the run game.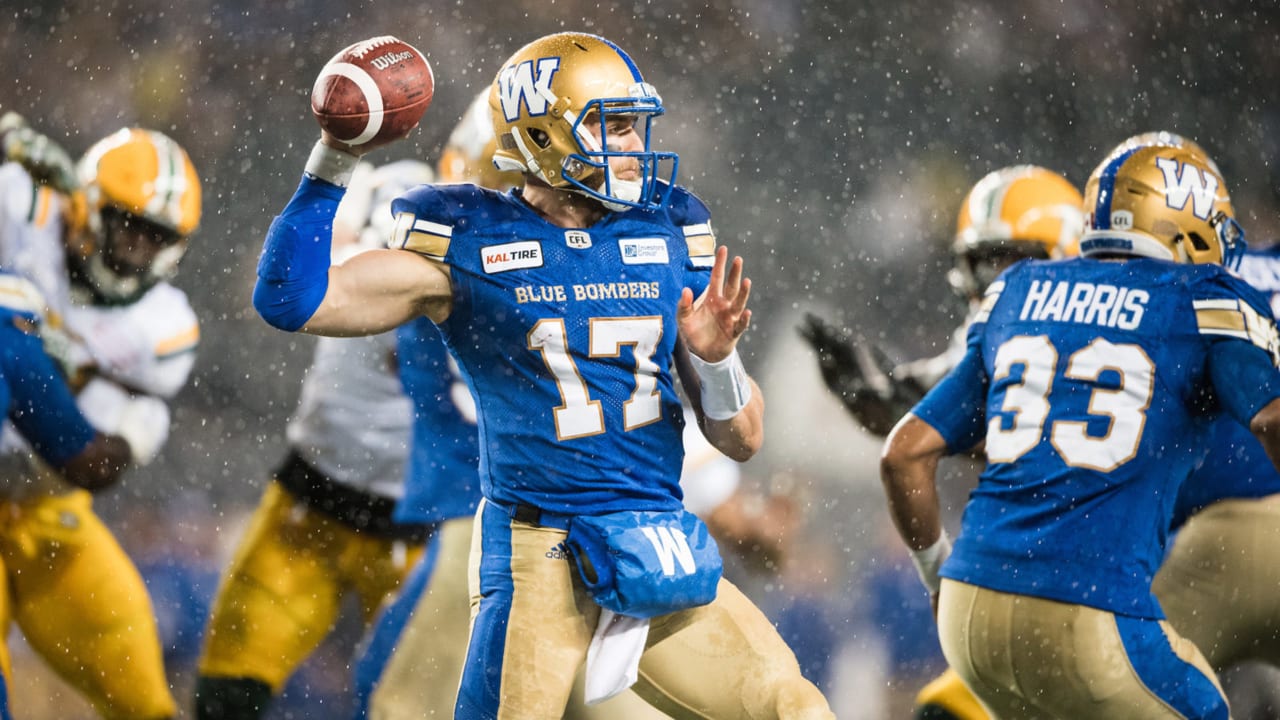 Of course Streveler is on a bigger stage now with the NFL's Arizona Cardinals, though the two dynamic quarterbacks now on the Redblacks roster, Evans and Christion may be able to find themselves a role similar to the one Chris Streveler had under Paul LaPolice in Winnipeg. This Swiss-Army knife role for a quarterback has become very popular in recent years mostly from former Ottawa Roughriders' quarterback, now Saints head coach Sean Payton's use of Taysom Hill. Hill isn't your average quarterback, or football player in general, the way he's able to absorb contact and play across the field is second to none but seeing that the Redblacks only had one game with a 100 yard rusher its hard not to look at the ifs for the 2021 CFL season. If the Redblacks were to install the same system as LaPolice had set up in Winnipeg with someone playing the Chris Streveler/Taysom Hill role on the offence, the run game would improve heavily, and considering his injury history that would mean Matt Nichols wouldn't have to drop back for as many passes. In Winnipeg when Streveler has been a part of the offence, they've led the CFL in rushing, in 2019 they led the league with 2,663 yards, winning the Grey Cup on top of it all. Streveler ran for nearly a third of the team's offence with 848 rushing yards and 13 touchdowns while the Ottawa Redblacks had just 1,348 yards and 9 rushing touchdowns on the year. Along with Streveler's success in Winnipeg, his rushing attack gave room for Andrew Harris to have two of his best seasons of his career, surpassing the 1,300 yard mark back to back years, going over 100 yards in 6 games in the 19 games he played in 2019, something the Redblacks just did once as a team.
Now like mentioned earlier, it won't be the exact offence that Paul LaPolice had going in Winnipeg with Streveler off of the market, though with either Caleb Evans or Taryn Christion filling in to his position it could look similar and could improve the running attack that the Ottawa Redblacks had in 2019. The closest player to Chris Streveler or Taysom Hill on the Ottawa Redblacks roster right now would have to be Taryn Christion. Christion, a 24 year old quarterback who measures at 6'2, 225 pounds has done it all over the span of his football career thus far. Coming out of a smaller school at South Dakota State, Christion wasn't given a lot of attention going into his 2019 NFL Draft year, though thanks to a heck of a University career he was able to get on with the Dallas Cowboys for a pre-season, followed up by opportunities with the Pittsburgh Steelers, Houston Texans and Seattle Seahawks. In University with the South Dakota State Jackrabbits Christion started in 44 games, winning 33 games, breaking school records, throwing for 11,535 yards and 104 touchdowns and rushing for 1,515 yards and 26 scores the dual threat quarterback was named 2018 FCS Athletics Director Scholar Athlete of the Year and was a finalist for the FCS Walter Payton Award in 2016, 2017 and 2018. Christion has shown his athleticism in University, helping the rushing attack in every game he played in university, similar to what could be asked of him in Ottawa and at the professional stage he has exceeded expectations of what he can do as a quarterback.
Starting with his 2019 pre-season opportunity with the Dallas Cowboys, Christion was 12 of 20 passing for 148 yards and a touchdown while rushing the ball 7 times for 25 yards but what really brought the attention to fans and coaches around the league was the fact that he was playing special teams. Christion showed early on that he was a do it all kind of player, playing on special teams, on kickoff and kickoff return with the Dallas Cowboys while playing on offence at receiver and of course quarterback. When asked about him, Dallas Cowboys beat reporter David Helman said, "Main thing I remember about Taryn was that they had him doing 100 different things. Special teams, QB, even a little WR if I remember right." And continued, "He played very well in the pre-season finale."
As good as his time in Dallas may sound looking back at it, unfortunately it didn't lead him to any permanent jobs, though his athletic ability was enough for the Pittsburgh Steelers to bring him in for a practice roster spot. With the Steelers, leading up to their first game of the season against the Baltimore Ravens, led by one of the best running quarterbacks in NFL history Lamar Jackson, Taryn Christion was told to mimic the running quarterback. Christion took snaps with the scout team offence against the starting defence throughout the week, playing the role of Jackson, preparing the defence to play against him and ended up sticking around for a couple more weeks until being released. He later had opportunities with the Seattle Seahawks and Houston Texans but no contracts were offered for him to stick around.
Christion, running under 4.50 in his 40 yard dash is shown to be if not the most athletic quarterback on the Ottawa Redblacks roster and if he can prove it, in the CFL right now. He is someone to keep eyes on moving forward and so is Caleb Evans. Evans, who played University ball at a small school as well with Louisiana at Monroe. As a starter for 3 seasons, playing a similar role as Christion, passing for 8,686 yards and 54 touchdowns while rushing for just one yard shy of 2,000 yards and 35 touchdowns, including 6 games where he ran for over 100 yards. Caleb Evans has yet to have an opportunity at the professional stage, though this stint with the Ottawa Redblacks, if he's used correctly could go a long way.
Both Evans and Christion each could go a long way with the Ottawa Redblacks, being under 25 years old, they have a bright future in the league and with Matt Nichols and Dominique Davis on the roster with Steve Walsh coaching the quarterbacks they will have great mentorship moving forward with their careers. Watch out for them both as they enter the 2021 CFL season with the Redblacks.