Since they entered the CFL in 2014 the Ottawa Redblacks front office led by general manager Marcel Desjardins have been very successful in their drafting. In their first three drafts they were able to acquire Nolan MacMillan (still with team), Connor Williams (played 5 years with team), Antoine Pruneau (still with team), Scott Macdonell (played 3 years with team), Nigel Romick (still with team) and Alex Mateas who is also still with the Ottawa Redblacks. As of recent they have had the luxury of selecting Mark Korte, Marco Dubois, and Justin Howell who each have made an impact on the team as well as Kene Onyeka, Wesley Lewis, Adam Auclair and Reshaan Davis who all have the potential to be stars in Ottawa if given the right opportunity though the question that everyone wants to know is will Marcel Desjardins continue to succeed in his drafting?
The 2021 CFL Draft class is full of talent, players from both the NCAA and U-Sports level are across the board, making it quite easy for Marcel Desjardins and the Ottawa Redblacks to bring in some good talent but in this year's CFL Draft, the obstacles do not come in the talent sector. Due to the COVID-19 Pandemic, the 2021 CFL Draft will not be like the ordinary CFL Draft that we are used to. The 2021 CFL Draft class has a variety of different players. There are players that are ready to play right away, then there are players that are ready to play right away but are likely to go to the NFL through the Draft or a free agent signing, there are players that have gone through the CFL Draft process up to this point but still have one year of University eligibility which they can return to and there are a large group of players, mostly NCAA players who are returning to play one or two more years of University football before playing professionally. For scouts and general managers like Marcel Desjardins of the Ottawa Redblacks the different groups of players in the 2021 CFL Draft class may make things more difficult than they seem from the outside looking in. As a general manager of a CFL team and as a coaching staff you have to make the decision prior to the draft whether you want to upgrade your team right away, getting someone that is ready to play as soon as you draft him or build a future lineup, rolling the dice on a player that may play for you one or two years down the road, pending an NFL opportunity and when the CFL or other major news sources market the 2021 CFL Draft that is often something that is overlooked. For the most part, the media around the draft has been covering the best players available in this year's CFL Draft but following a 3-15 season in 2019 and a long off-season the Ottawa Redblacks might want to go with players that are available to play the 2021 CFL season while also building their future rosters in getting some players that are playing University football again this year if they are available at a reasonable selection but how should the Redblacks front office go about that process?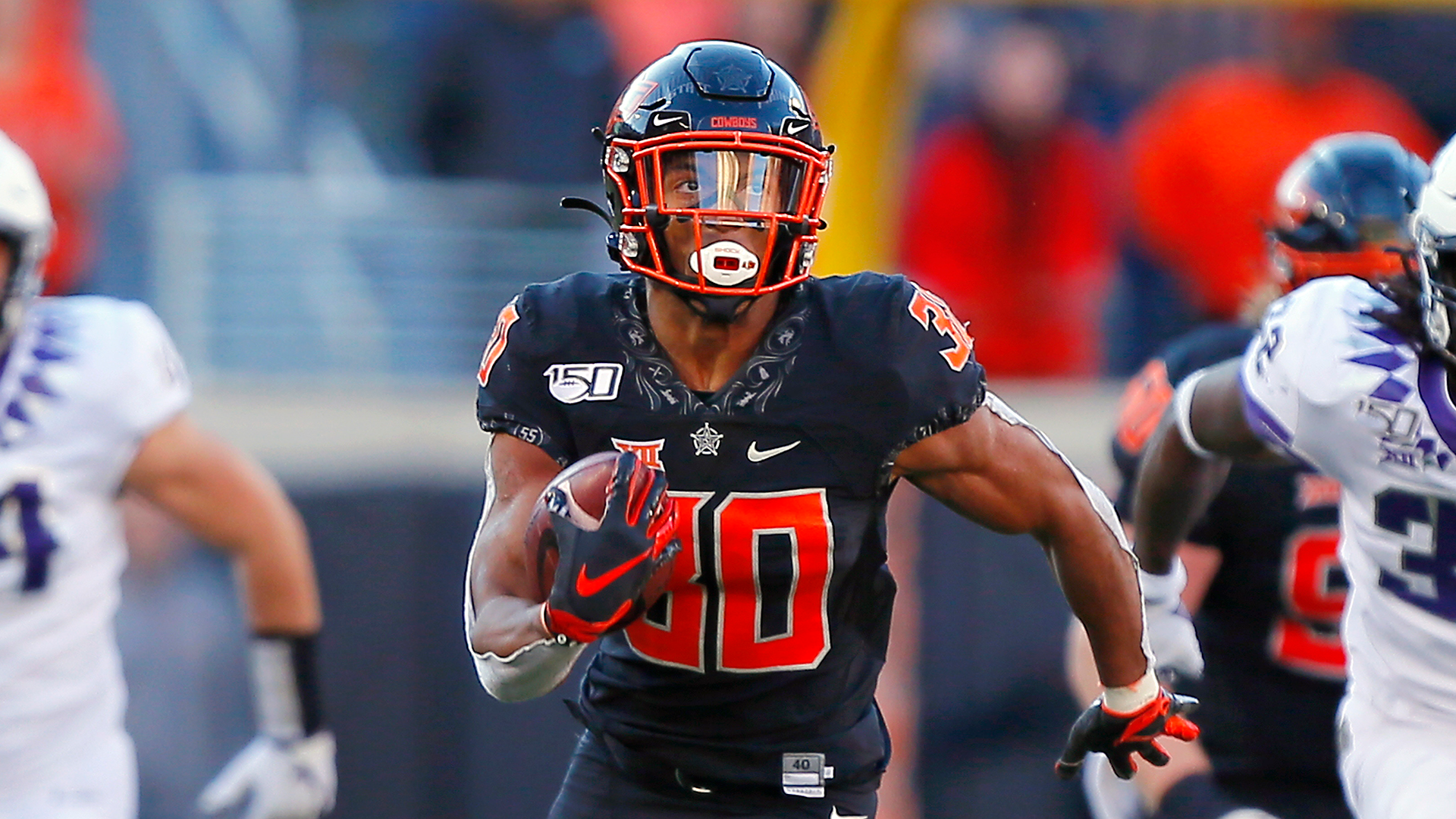 In this year's draft the Ottawa Redblacks are lucky enough to have all of their six draft picks, picking at 6th, 13th, 24th, 31st, 42nd and 49th overall having 6 opportunities to select the best player available that tailors their needs and wants. The first two or three selections, the 6th, 13th and/or 24th overall picks in the draft which are held by the Ottawa Redblacks should be used to get the best players available that are ready to play today. Then once you have two or three players that have strong potential to make an impact in 2021 with the Redblacks you can move on to getting the best player available for all circumstances. The Redblacks' are known for getting the best offensive linemen available in the previous drafts, having selected Nolan MacMillan, Alex Mateas, Jason Lauzon-Seguin, Evan Johnson, Mark Korte, Alex Fontana and Ketel Asse in 7 of the last 8 CFL Drafts. Similar to their will to get the best offensive linemen in the previous drafts, in the 2021 CFL Draft they can do that but generalized to any position and any group of players. A few names that continue to come up on CFL Draft boards and mock drafts are defensive backs Alonzo Addae of West Virginia, Rutgers' Patrice Rene, and Ole Miss' Deane Leonard, linebackers Deshawn Stevens of Maine, and Tyris Lebeau from UMass, defensive linemen Daniel Joseph of NC State, Wake Forest's Luiji Vilain and Central Michigan's Mohamed Diallo as well as both offensive linemen Sage Doxtater from New Mexico State and Texas State transfer Liam Dobson but each one of them are set to return to school next year, meaning if they are drafted in this year's CFL Draft they will not be able to play in 2021 and would only be able to play as early as the 2022 CFL season if they are even able to then. Each of the ten players named, and other players in the same situation shouldn't be a first or second round draft pick in the 2021 CFL Draft. In the early rounds teams should be looking to get talent to play and make an impact right away, but again tailored to the team's needs. If you have 5 or 6 offensive linemen that are starting caliber like the Redblacks do with Alex Mateas, Nolan MacMillan, Mark Korte, Brandon Hitner, Na'Ty Rodgers and Darrell Williams maybe hold off for at least the third round to get an offensive lineman especially after the 2020 CFL Draft where the Ottawa Redblacks drafted both Jakub Szott and Ketel Asse.
With that being said, the first two or three rounds of the 2021 CFL Draft, for the Ottawa Redblacks should be tailored to help the team's needs today. Considering it has been well over one calendar year since the CFL was on the field last and the CFL is in its second off-season in this long off-season, there aren't many noticeable needs for the Ottawa Redblacks that make too much of a difference, though it is clear that a player or two in certain positions could help but which players will that be and at which positions will the Redblacks draft at?
This year's CFL Draft class shows strength at linebacker, offensive line, and defensive back while also having good depth options at both receiver and defensive line. Each of the five positions, when looking at some of the team needs as well as results from previous drafts could be targets for the Ottawa Redblacks and there is some good talent in each of the five positions which would leave the Redblacks fairly well off if they get one of each or at least a couple players from the list.
At receiver, one of the Redblacks biggest needs for Canadian talent with Brad Sinopoli, Anthony Coombs and Daniel Petermann the only Canadian receivers set in stone for the 2021 roster. The Ottawa Redblacks also have big play potential players in Marco Dubois, Malcolm Williams and Wesley Lewis but in this year's draft class there may be a few receivers worthy enough to add to that list to help with the Canadian depth at receiver for the Ottawa Redblacks. The Draft class' best receivers would be both Joshua Palmer and Terrell Jana, though with the NFL calling both of their names in next week's NFL Draft the Redblacks may want to look more at some U-Sports receivers that do not have the NFL opportunity calling their names. The 2021 CFL Draft class' best U-Sports receiver and a player that performed well in the 2021 CFL virtual draft would be Will Corby of Toronto University. Corby, at 6-foot-4, 198 pounds ran a 4.60 40 yard dash, a 4.30 shuttle and a 7.10 3 cone drill for his virtual combine but it isn't his combine performance that scouts are looking too deeply at. For Corby the attention is on his game film which from 2017 through 2019 has very few flaws. Over the span of the three seasons Corby played in 24 games, catching a total 101 passes for 1,878 yards and 12 touchdowns. Behind those stats he averaged over 4 catches a game over his collegiate career as well as 78 yards per game and scored a touchdown in every second game. At 6-foot-4, Corby provides the Redblacks with a big body at the receiver position, something the Redblacks will miss in 2021 with the departures of both Dominique Rhymes and Caleb Holley this off-season similar to fellow CFL Draft prospect Luther Hakunavanhu of York University.
Hakunavanhu, an Edmonton, Alberta native stands tall at 6-foot-3, 207 pounds and running similar combine numbers as Corby with a 4.63 40 yard dash, a 4.40 shuttle as well as a 7.23 3 cone drill which helped his draft stock, lining him close against Will Corby who has bee looked at as the best available U-Sports receiver this year. The combine numbers have been a help for Luther Hakunavanhu's draft stock but his stock was already set with his performance at the university level at York. From 2017-on Hakunavanhu has caught 68 passes for 938 yards and 5 scores in 21 games. He has averaged 3 catches a game and 13.79 yards per reception over his collegiate career, making himself one of the best receivers available in the draft class. Outside of both Corby and Hakunavanhu there isn't too much strength at the wideout position in this year's CFL Draft. There is both Dylan St. Pierre of UOttawa and Laval Rouge et Or receiver Mathieu Robitaille who both had good combine performances to pair with their game film from their university careers, showing strength, quickness and on film reliability, though other than the 4 receivers coming from U-Sports and the two expected to make their ways to the NFL in next week's NFL Draft there isn't much more Canadian content worth looking at too much, but do not be surprised if there is a lot of success coming from those available in the 2021 draft class. One position that is nearly guaranteed to have success in this year's CFL Draft class would be the linebackers.
Unfortunately for the Redblacks, its unlikely they will get a linebacker early in this year's draft if they even do end up going there. Having drafted three Canadian linebackers in last year's draft with Adam Auclair, Brad Cowan and Dan Basambombo then drafting a Global linebacker in April 15th's CFL Global Draft and signing Avery Williams, Jerod Fernandez, Don Unamba, Christophe Mulumba, Dwayne Norman, D'Juan Hines, and Frankie Griffin the Redblacks are already well off at the linebacker position, however knowing the injury trouble the team faced in 2019 and the majority of the players on the roster not playing for well over a full calendar year it shouldn't be surprising if the Ottawa Redblacks and general manager Marcel Desjardins do end up drafting a linebacker this year given the strength at the position. Talk about strength at this linebacker position, likely the best linebacker in this year's CFL Draft class might just be the strongest in the draft class as well. Ben Hladik, a 6-foot-4, 239 pound linebacker out of UBC hit 29 bench press reps at 225 pounds, just three reps behind Carter Comeau's 32 reps, but what sticks out is the fact that Comeau weighs 125 pounds more than Hladik and as an offensive lineman Comeau is expected to get a decent amount of reps at bench press. Hladik also ran a 4.66 40 yard dash, a 4.167 shuttle as well as a 6.66 3 cone drill earning himself a Canadian football Perspective combine score of 97.31, the highest in this year's draft class. To back up all of his great numbers at the combine, Ben Hladik, in three years at UBC played in 27 games making 189 tackles, 29 tackles for loss, 6.5 sacks while forcing 10 turnovers. Hladik's average of 7 tackles a game over the span of his collegiate career looks extremely well, and putting the 10 forced turnovers, 7 forced fumbles, 2 recovered fumbles and one interception on top of it might make him the best linebacker available after his combine performance, though very close to him would be Simon Fraser University linebacker Griffin Barrett. Barrett, a 2021 CFL Regional Combine invitee also averaged 7 tackles a game over his University career. He played in 30 games over the span of his SFU career, making 210 tackles, 13.5 tackles for loss, 2 sacks, 2 pass breakups and one interception. After running a 4.93 40 yard dash, a 7.10 3 cone drill and a 4.36 shuttle he was awarded a Canadian Football Perspective combine rating of 65.10. It may not be as good as Hladik but having not participated in the bench press, at 5-foot-10, 217 pounds Barrett still ranks as one of the best linebackers in the draft and averaging 7 tackles a game at SFU he has a lot of game film to back him up.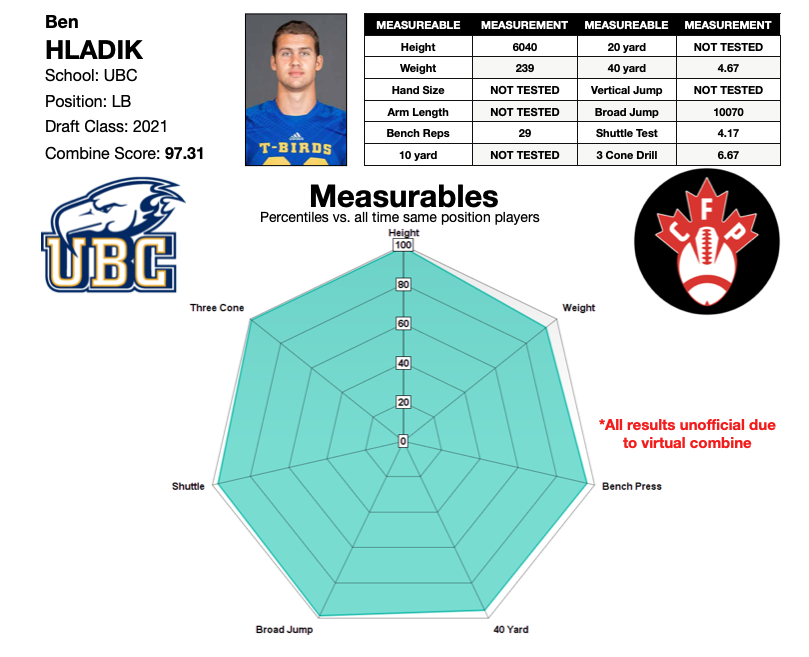 After Hladik, Calgary linebacker Grant McDonald has been getting a lot of attention around the CFL Draft. Running a 4.56 40 yard dash he ranks as one of the fastest linebackers available in the 2021 CFL Draft class and on top of that having 17 bench press reps at 225 pounds he shows strength, however with a 4.46 shuttle and 7.56 3 cone drill he didn't test too well for change of direction. Change of direction is a crucial part of the linebacker position, and in Ottawa he would be asked to play in coverage and play the run so it would be something that he could work on, but at the end of the day the struggles in his combine testing didn't affect him in games. Having made 89 tackles, 12 tackles for loss, 4.5 sacks, one interception, one forced fumble and two pass deflections over the span of his last 14 games as a Dino he has quite the highlight package just like linebacker Nick Cross of UBC. Nick Cross originally played at the University of Regina where he first made an impact in 2017, totalling for 63 tackles, a sack and an interception in 9 games before being a first team All-Canadian in 2019 playing alongside Ben Hladik who was named a second team All-Canadian and is also in this year's draft from UBC. In the 2019 season at UBC Nick Cross played in 8 games, making 74 tackles, 5 tackles for loss as well as a sack and interceptions. In the two major seasons that he played, in 2017 and 2019 he made a total 137 tackles, 8.5 tackles for loss, 5 pass deflections, 2 interceptions and 2 sacks. He averaged a whopping 9.13 tackles a game over the two seasons and at 6 foot, 200 pounds he has a lot of potential at the professional stage. If the Redblacks do end up going linebacker in this year's CFL Draft to pair with it's Canadian linebackers expect them to get Nick Cross, Ben Hladik, Grant McDonald, Barrett or even both Trevor Hoyte and Jared Richards who are two great linebackers under the radar in this year's draft class.
After watching the moves that the Ottawa Redblacks have made this off-season, improving their defence right from the get go getting Mike Benevides as the defensive co-ordinator and even recently signing former NFL defensive back Shamarko Thomas who was a Pittsburgh Steelers 2013 NFL Draft pick out of Syracuse it shouldn't surprise R-Nation if Desjardins and his front office crew improves the defence even more in the 2021 Draft. Defence does win championships, and having just 12 interceptions in the 2019 season, the least in the CFL the Redblacks have been consistently improving their defensive backfield to insure they get enough turnovers to keep the offence on the field in 2021. They have done so by signing former NFL defensive backs Shamarko Thomas, Marcus Roberson, and David Jones, CFL free agents Dagogo Maxwell and Abdul Kanneh while drafting Treshaun Abrahams Webster in the 2020 CFL Draft and bringing back Sherrod Baltimore, Gump Hayes, Corey Tindal, Randall Evans, Brandin Dandrige, Justin Howell and Antoine Pruneau they should be set to have a great defensive season in 2021, but like every other position on the football field, from quarterback to punters you can never have too many great players. As for Canadian content the Ottawa Redblacks have just 6 players in the defensive backfield and knowing how much these Canadians play special teams it almost slims down to 3 or 4 Canadians that are expected to play defence in 2021 given the lineup right now in the off-season. With that being said, if the right player is available in the right spot in the draft the Ottawa Redblacks might just go out and get defensive back help. One player that has been a headline player in the 2021 CFL Draft and if he is available at 6th overall even could be a player that the Ottawa Redblacks target is Nelson Lokombo. Lokombo's brother Bo Lokombo is a linebacker in the CFL and was just recently signed by the B.C Lions and with the Lions selecting at 4th overall this year it shouldn't be a surprise if they bring in the Lokombo-Lokombo duo in the defence but if he does fall to 6th overall where the Ottawa Redblacks will have their first pick in the draft Nelson Lokombo should be fairly high on the draft board. At 5-foot-10, 184 pounds Lokombo isn't the tallest defensive back in the draft but running a 4.66 40 yard dash, 4.03 shuttle, a 6.76 3 cone and testing at 10 bench press reps of 225 pounds he demonstrates speed, quickness, strength, good change of direction and on game tape he showcases himself as a true football player. As a defensive back he is fearless, making 115 tackles, 15 pass deflections, 10 interceptions, 3 sacks and forcing 3 fumbles over 30 games at the University of Saskatchewan from 2017 through 2019. He has made a large impact and has been recognized for it as well being named the 2019 U-Sports defensive player of the year where he made 39 tackles, 3 sacks and 5 interceptions.
In this year's CFL Draft Lokombo is alongside Shae Weekes as the best defensive backs. Shae Weekes, like Nelson Lokombo isn't the tallest defensive back available standing at 5'10 as well but has similar speed as Lokombo, testing at 4.66 for the 40 yard dash, 7.03 3 cone and 4.23 for the shuttle while benching 7 reps of 225 pounds. Weekes most recently played for the University of Bemidji State, but due to the COVID-19 Pandemic the Manitoba native wasn't able to play across the border with a cancelled season. However he was able to play three seasons at the University of Manitoba where he made a large impact and will be evaluated on. As a Bison, Shae Weekes played in 26 games making 105 tackles, 13 pass deflections, 7 interceptions, 3 fumble recoveries, 2 tackles for loss and 1 forced fumble while returning one punt return for a touchdown.
Weekes and Lokombo are the headline defensive backs in this year's CFL Draft but after the combine performances were released to the public other defensive backs Matt Watson, Daniel McWhirter, and Redha Kramdi are getting some attention and each have a good shot at getting drafted alongside both Lokombo and Weekes.
To finalize the defensive side of the ball, there are a few different defensive linemen available in this year's CFL Draft class ready to make an impact. Both Alfred Green of Laurier and Carleton's Shaiheem Charles Brown each have a good chance of being drafted in the 2021 CFL Draft, each hitting over 15 bench press reps of 225 pounds at the combine and Green reaching 4.57 seconds on the 20 yard shuttle at 6-foot-2, 242 pounds but nothing beats Guelph turned Carleton Ravens defensive end and edge rusher Alain Cimankinda. At 6-foot-1, 235 pounds Cimankinda was given a Canadian football Perspective combine grade of 80.70, one of the highest on the defensive side of the ball, having ran a 4.93 40 yard dash, clocking in at 4.43 and 7.36 for the shuttle and 3 cone drill while benching 23 reps of 225 pounds he shows definite quickness and strength on the defensive line and looking back at his entire football career from the grass roots of OVFL, CEGEP to JUCO at New Mexico Military Institute to Guelph there is no shortage of evidence backing him up. Being just two sacks shy of the U-Sports record of all-time sacks which if he would have played a 2020 season would have been a broken record Cimankinda, with linebackers Hladik, Cross and McDonald as well as defensive back Nelson Lokombo are some of the headline defensive players in this year's CFL Draft. He made 53 tackles, 21 tackles for loss, 16.5 sacks and forced two turnovers in 23 games over the span of three seasons at Guelph, and if he is drafted by the Redblacks it would be expected that he plays special teams to start out but his versatility to play across the defensive line and even in the defensive backfield at linebacker could help him get quality playing time on defence and to pair with Carleton Ravens alum Kene Onyeka, Ottawa Gee Gees Reshaan Davis and Canadians Cleyon Laing, Stefan Charles, Ese Mrabure and Nigel Romick Cimankinda could be a future Canadian ratio breaker like Kwaku Boateng has become in Edmonton.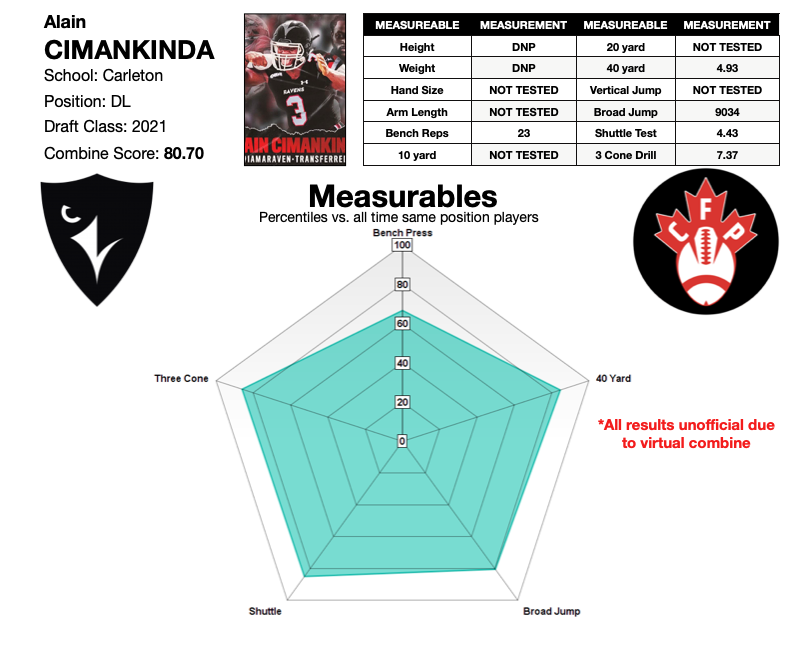 Going up against Cimankinda, Charles-Brown and Green (in practice) in university was offensive lineman Bryce Bell of Laurier. Bell, one of the best offensive linemen available in this year's Draft with Logan Bandy, Connor Beglof, Carter Comeau and Matthew Derks could find himself on the Ottawa Redblacks on May 4th if he falls to a good spot in the draft. The Ottawa Redblacks drafted two offensive linemen in the 2020 CFL Draft and drafted Chris Ferguson in the 2021 CFL Global Draft just last week so they aren't expected to draft an offensive lineman early in the 2021 CFL Draft but after losing both Jason Lauzon-Seguin and Evan Johnson as of recent, Desjardins and his Redblacks front office staff might look for a lineman late in the draft to help with the depth and like every other position that the Ottawa Redblacks drafts in this year's CFL Draft they will get the best player to fit their needs and to make an impact right away.
Following a 3-15 season in 2019 and an extra long 2020 CFL off-season, the Ottawa Redblacks will be drafting to improve on Tuesday May 4th and like the other 8 teams the Redblacks fan base should be very excited to see who lands in Ottawa from this year's draft class.